If you're an AdWords advertiser, you likely know about the new AdWords' experience. Google sent emails to all users and has posted reminders throughout the legacy interface. Google will discontinue that interface at some point, although no one at Google will commit to when exactly that will be.
Nonetheless, in this article I'll review the new "Opportunities" tab, since Google has made it much more prominent.
Opportunities
The previous interface had top-level tabs.
The most-used tab for me was Tools, since that's where the Keyword tool, Ad Preview tool, and Conversion Tracking tool lived. My least-used tab was Opportunities. It seemed like a collection of marginal ideas to get me to spend more money. Here's an example, below, of what it looked like.
The first "opportunity" (above) is for me to raise bids. Next are opportunities to increase clicks and enable "Enhanced CPC bidding," which allows Google to as much as double a bid if it thinks a conversion is likely.
But the "Opportunities" tab is even more prominent in the new interface!
The Opportunities tab is now directly under Overview and above Campaigns. That's a huge change from the previous interface. Google really, really wants users to see these opportunities. The company employs many smart people. And since AdWords is the cash cow, Google presumably has behavioral scientists and user interface designers working on this.
So let's look at what's there and what to make of it all.
Actual Opportunities?
Googles includes suggestions for, seemingly, everything here — from bids to keywords to ad extensions to audiences to ad copy. Likely I have not seen all there is. However, I have reviewed several accounts to provide a comprehensive analysis. AdWords segregates the choices into three areas, which I'll address one by one.
Bids Budgets. In the screenshot below, note the five options in the "Bids Budgets" tab. The first three ("Maximize Conversions," "Enhanced CPC," and "Target CPA") are settings. The last two ("Your ads stopped running" and "Target CPA") are actual suggestions for setting bids and budgets.
Let's address what each option means.
Use Maximize Conversions bidding. This gives AdWords much latitude in determining bids for a particular keyword-query. It's an alternative to manual cost-per-click bidding. This setting will disable location bid modifiers and time-of-day modifiers because AdWords is factoring those into the algorithm. For advertisers with limited budgets and limited time to manage their account, this could be a win. AdWords users who are actively managing their accounts should probably pass on this.
Enable Enhanced CPC. This option allows AdWords to increase a bid by up to 100 percent for a given search-query, even when manual CPCs are set. The previous interface allowed for just 30 percent increase. Pass on this option if you're actively managing bids or have a tool or script doing it.
Use Target CPA bidding. This is another alternative to "Manual CPC" bidding, but it allows advertisers to input a target cost per acquisition and AdWords will do its magic to hit the target. This is available only after you reach a certain number of conversions — currently it's 15 conversions in the last 30 days. This option can be very helpful for stable, high-conversion, high-volume campaigns.
Increase budget. This means that you have campaigns that have hit their daily budget limit in the last 30 days. However, since AdWords now allows a campaign to overspend a daily budget by up to 100 percent on a given day, I anticipate fewer advertisers using this option going forward. Although this option does, helpfully, estimate how many more conversions you could receive and what they would cost.
Lower your bids. In my experience, lowering bids to receive more clicks is rare. But this option does estimate what you could save and how it could impact the campaign. However, I don't anticipate advertisers seeing big performance increases here.
You'll also see opportunities to increase bids if you're not reaching the suggested first page bid or if you're not increasing your position on the page. The takeaway for me from seeing these suggestions is how much AdWords is trying to influence bidding. For inexperienced advertisers or advertisers with little time to manage their account, this could be a win. But active advertisers should set up experiments to test AdWords' suggestions.
Keywords Targeting. Google had relatively few suggestions for the sample account, below. What follows are my observations.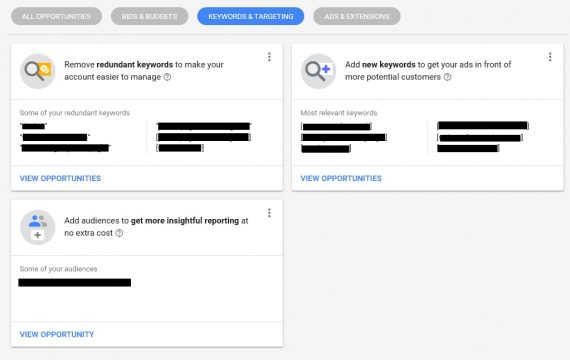 Remove redundant keywords. Redundant keywords usually appear in accounts that were set up before close variants on exact match keywords launched. Google's recommendation is usually to remove the plural version of a keyword when the singular is present, since AdWords is already matching those. This is useful to trim deadweight keywords. It would not reduce coverage, typically.
Add new keywords. These suggestions are from Google's Keyword Planner. Some are good, some are bad, and some are truly terrible. I don't recommend applying this option in bulk. But a real person with intuition could look through these suggestions and turn up some good ideas.
Add audiences. AdWords would love to get more advertisers on the audience bandwagon. Facebook is killing AdWords in this area. My recommendation is to add audiences for observation only, so it won't cost anything. But likely you'll see opportunities down the road to add bid modifiers on audiences where performance is good.
Ads Extensions.
Change your ad rotation. AdWords recently simplified ad rotation to be "Rotate indefinitely" or "Optimize." Thus, unless you have your campaigns on "Optimize" you'll always see this ad rotation option. I prefer rotating, to give new ads a chance to compete. The optimize setting can be very helpful once you've given the variations some volume. AdWords will then use the better-performing ads more. These are solid suggestions for advertisers that don't have time to manage-observe ad testing.
Create new, more relevant ads. These are usually suggestions to include your keywords in ad copy. It's a best practice. So unless you have a good reason for not including core keywords in your ads — i.e., your keywords are competitor names that are trademarked — take these suggestions seriously.
Create new ad groups. This usually shows up when you have ad groups with large numbers of keywords that appear to cover multiple themes. AdWords is encouraging you to break them down into more tightly themed ad groups so ads match the keywords more closely. This is usually a good idea. But don't implement blindly. AdWords is, after all, an algorithm and it sometimes misses the mark on themes.
You'll also see many suggestions in this area to add extensions if you're not using them. Callouts, sitelinks, review extensions, structured snippets, call extensions, and location extensions are typically helpful to advertisers. I definitely encourage you to implement them. They help click-through rates and can add to your messaging.
Article source: https://www.practicalecommerce.com/adwords-navigating-the-new-opportunities-tab