Keyword research is an integral part of any SEO marketer's job.
But according to a study compiled a few years back, few people actually love keyword research.
Keyword research was ranked as one of the top three most difficult tasks by SEO professionals (behind link building and content creation).
That might be because 66% of us perform our keyword research in-house as opposed to finding a specialist or outsourcing it.
Keyword research can also be a daunting task – as almost 44% of us only do it when we have to.
It makes sense.
When you do your keyword research sparsely, it can feel like a huge project, and there are quite a few pitfalls that make it feel even more laborious.
When I polled SEO pros on Twitter about what they think are the biggest mistakes businesses and marketers make when performing keyword research, I got almost 40 responses – but many hit on the same themes.
Here is a list of the top-named biggest keyword research mistakes to avoid:
1. Forgetting Searcher Intent
So many people mentioned that the biggest keyword research mistake was forgetting to truly examine searcher intent.
What's the point in ranking your site or content for a query that doesn't match what the user is looking for?
So many marketers are more obsessed with driving traffic than they are with the bottom line – driving conversions.
And that's where the searcher intent comes in.
Searcher intent examines what the user is actually looking for when they look for something online.
If you have a recipe site, chances are people want the recipes – not a 2,000-word essay on what this meal meant to you in your childhood.
Match your content to what people are actually looking for or ensure that the right types of queries are driving traffic to your site.
2. Not Looking at Actual SERPs
Part of understanding searcher intent and what search engines understand the intent behind users' queries to be – is to actually look in the SERPs.
Too many people spend too much time in the tools, and don't look at what's actually ranking for keywords.
You may see that the content that Google serves users for a particular query doesn't match the content you have for that keyword. Maybe you're writing a blog, but search engines interpret the query to need a product page result.
Look at what type of content is ranking for that keyword and model your content on that framework.
3. Not Seeing Past 'Volume' Metrics
Many times keyword research involves metrics that don't necessarily tell you what's best for your business.
Sure, we want to go after terms that will drive the most traffic and help improve important metrics, but it doesn't always make sense for every business to go after the highest volume keywords.
Not only is it important to realize what's reasonable for your site to rank for, but what types of queries your searchers will actually be using to find your solution to their problem.
Don't focus too much on volume alone – look at other factors that can affect your content as well.
4. Dismissing Long-Tail Keywords
Part of focusing solely on volume is dismissing longer tail keywords.
While long-tail keywords often have lower volume, they often represent a lower stage of the funnel – which means a user is more ready to buy or closer to a conversion.
But targeting even top of funnel long-tail keywords means there is likely less competition and you're answering a searcher's exact query – making them more likely to trust your brand as the expert in that area and come back when they're looking to make a purchase.
5. Not Talking to Real People
Along with looking at SEO tools and SERPs, it's crucial that you talk to actual people in your keyword research.
Sarah Gurbach gave a great talk at CTAConf this year about easy ways to get qualitative data from your customers that informs you about their journey. Use her methods for your keyword research, too.
You can also talk to the people in your business who are on the front lines with customers.
Hear what language they use, what issues they're having, what questions they ask that could be answered by your website content.
6. Inserting Keywords After an Article is Written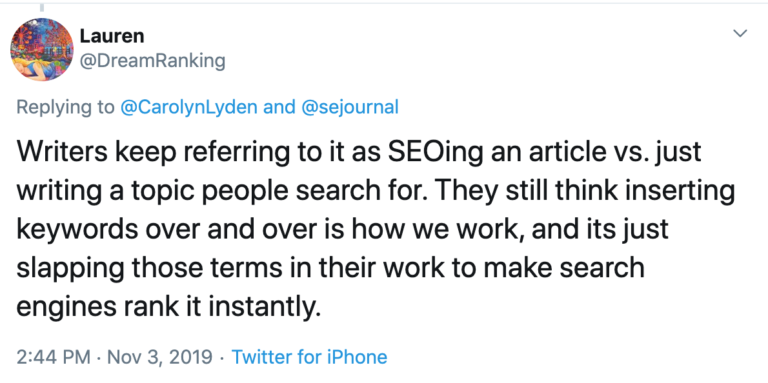 Every SEO expert has seen it or gotten the request: "Can you just 'SEO' it?"
Sadly, keyword research is often done with content already written. Or writers unfamiliar with SEO best practices think that in order to "SEO it," they just need to repeat the keyword infinitesimal times.
Instead, keyword research should be a foundation upon which all SEO, PPC, and content strategy is built. It's not an add-on at the end.
Your site cannot meet users' needs and perform well in rankings when research is an afterthought.
7. Not Knowing Where Your Audience is Searching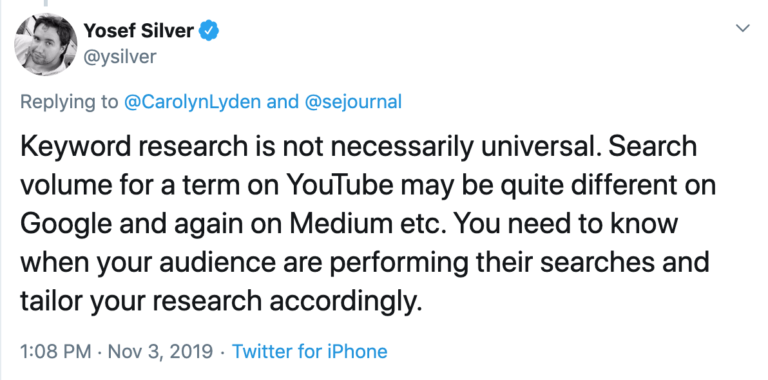 Along with checking actual SERPs for the type of content that users are looking for with each query, it's also important to check other searchable properties to see where people are going for information.
As a personal example, if anything in our house needs to be repaired, my husband automatically searches YouTube.
But I've also performed keyword research on places like Twitter, Reddit, and other non-Google platforms.
Expand your research beyond the traditional tools and mediums to places on the web where your target user actually goes to find answers.
8. Focusing Too Much on Exact Match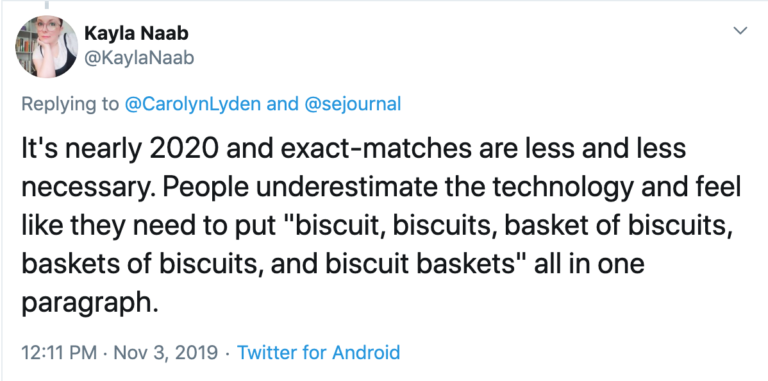 If you've ever heard the old SEO joke (An SEO copywriter walks into a bar, grill, pub, public house, Irish, bartender, drinks, beer, wine, liquor…), this one will make you roll your eyes in agreement.
With Google's understanding of Natural Language Processing and related entities, there's no need to stuff your content with every related keyword you can think of.
Too frequently businesses and clients get stuck on ensuring the exact-match of a keyword and all its variations have to be included in a piece for it to rank, but that's just not the case.
Ensure you're writing content the way that you'd explain it to someone over the phone.
You wouldn't say the same words repeatedly, so don't write that way.
9. Ignoring Localization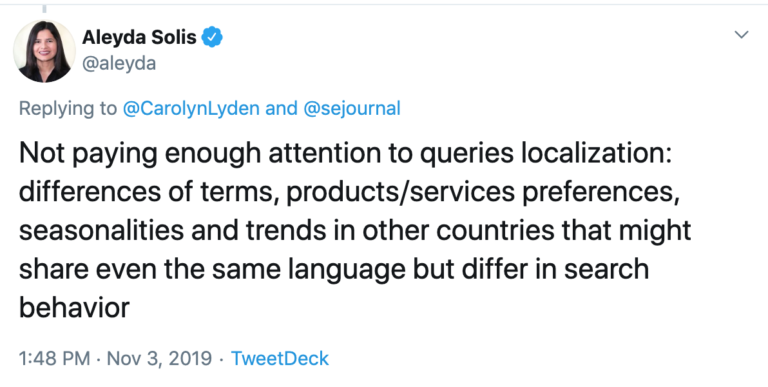 I once had an account that wanted badly to rank for a specific product they were selling – let's call it pantry shelving.
They tracked and researched keyword rankings related to their pantry product and could never hit number 1 or drive a ton of traffic or conversions from those specific keywords.
When we worked together, I showed them that when anyone searched the keywords they were targeting, Google showed searchers where they could buy pantry shelving systems near them.
Many factors go into curating the right results for searchers including seasonality, localization, previous searches, and more.
This is just another reason to get in the SERPs for your research.
10. Not Focusing on More Broad Topics
While we're shying away from creating content strictly for exact-match, it's also crucial that we zoom out a little in our research.
Focusing on broader topics in the research and writing processes can help you brainstorm new ideas and can help the flow of an individual piece or website seem more natural.
The topic cluster model can also help with internal linking.
Broaden your research to go beyond specific keywords and expand your content capabilities.
11. Being Unaware of Competitors

Businesses have an idea of who their main product/service competitors may be, but oftentimes that doesn't line up with who their SERP competitors are.
It's crucial to know who your SERP competition is for the search topics and terms you're trying to rank for because you can understand what search engine modeling assesses to be the type of content that users want.
Ensure that competitor research is also part of your keyword research process.
12. Not Evaluating Keyword Difficulty Properly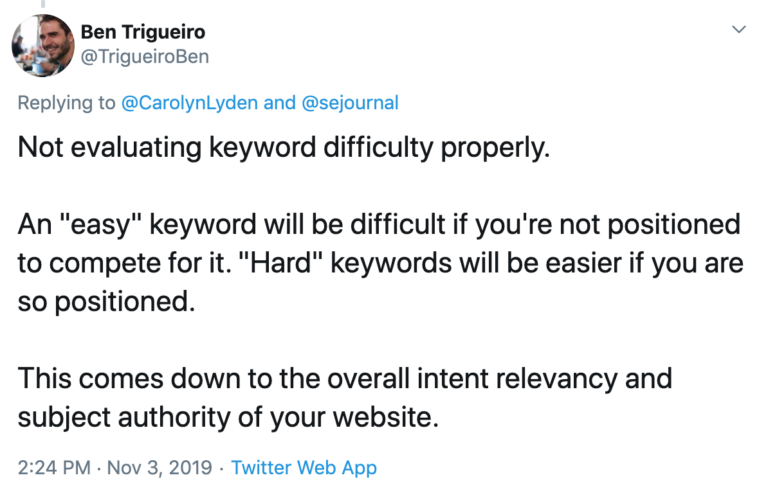 Many keyword research tools offer a variation of "keyword difficulty" which is their assessment of how competitive a certain topic is in SERPs.
However, that assessment doesn't typically include your individual site information and positioning.
You may appear as a subject matter expert on a certain topic, and so ranking for that topic won't be as difficult for your site.
However, if you have a brand new site or are trying to break into a new market, it might be a lot harder to rank since you don't have the authority on that topic yet.
Keep these factors in mind when you perform keyword research and take any metrics with a grain of salt
13. Letting Clients Pick the Search Terms
Ever had a client or prospect who wants to "rank #1 for [fill in the blank keyword]"?
Who hasn't, right?
Sometimes, though, the keyword they're desperately targeting is all for vanity – and won't drive them conversions or help build up the bottom line.
Make sure you're chiming in as the expert about what really matters in SEO – driving qualified traffic that converts and improves revenue.
What Mistakes Have You Noticed?
If you're an SEO professional and perform keyword research regularly or with clients, what are the biggest mistakes you've seen in keyword research?
What major misconceptions do you think people have?
Let us know in the comments!
More Resources:
---
Image Credits
All screenshots taken by author, November 2019
SHOW COMMENTS
Article source: https://www.searchenginejournal.com/seo-keyword-research-biggest-mistakes/334157/